Curiosities
Anglo-American fretted fun
My new CD, Curiosities (£10) is a jaunt back along the lost highways of popular music that I've loved for a lifetime, featuring an eclectic brew of numbers, styles and instruments, detailed in the tunes and background to the CD, with further information in the appendices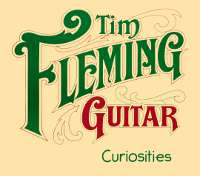 Sound clips:
Bugatti
(Calvert/Fleming)
Nellie The Elephant
(Butler/Hart)
At the Balalaika
(Maschwitz/Posford)
The Fursdon Flit
(Fleming)
I Hate Myself (For Being Mean To You)
(Davis/Young/Ager)
Oh! Oh! Antonio
(Murphy/Lipton)
Sig Tune Heaven
—
In Party Mood
(Strachey)
We are the Ovaltineys
(Helmsley)
The tunes
1. Wacky March
(Fleming)
sound clip
Some flatpicking fun to get things going. Flatpicking — a style using the plectrum where the tune is played on the bass strings and the accompaniment is brushed on the trebles — transcended its rather stolid folksy roots in the playing of virtuosi like Doc Watson, John Herald and my friend and mentor, Steve Benbow. The coda here borrows from his playing.
2. Everything Stops For Tea
(Sigler/Goodhart/Hoffman)
Jack Buchanan, the British Astaire, maybe didn't quite have the hoofing and piping potential of Fred, but his nasal tones and dapper nonchalance are equally charming. He was hugely popular in the 1930s: together with his co-star, Elsie Randolph, he starred in a series of rather slight musical comedies. It didn't matter: one simply went, as my parents did, to a 'Jack and Elsie show'. It's often assumed this song must by Noël Coward, but was actually the work of a trio of American alley pros, who were especially shipped over from New York to write for Buchanan.
3. Music Hall Moody #1: The Future Mrs 'Awkins
(Chevalier)
Music Hall is one of the most resonant examples of 19th century popular culture and is typically characterised by its irreverent comic songs with their catchy choruses and beery bonhomie. But there is another side to Music Hall song: slower sentimental ballads, sometimes with melodies of quite startling beauty. I include three of my favourites on this album, and deliberately scatter them through the playlist to contrast with more pacy offerings. The first is by Albert Chevalier — perhaps best known for My Old Dutch. The slow string-bends are suggested by the playing of Mark Knopfler when we duetted on the tune in the 1970s.
4. The Fursdon Flit
(Fleming)
sound clip
Bluegrass — "folk music in overdrive" according to musicologist Alan Lomax, is most easily recognised by the sparkling, showy banjo style invented by Earl Scruggs. His technique used finger-picked rolls to create a carpet of syncopated sound. Jesse McReynolds adapted the style for mandolin, using cross-picking with a plectrum to produce a similar effect. My effort here takes Jesse's invention away from its Bluegrass roots to a slightly jazzier place.
5. At The Balalaika
(Maschwitz/Posford)
sound clip
Most familiar through the muscular vocalising of Nelson Eddy, in the 1936 movie of similar name, the number is done here as an unaccompanied Hawaiian steel guitar solo. Both the instrument and the style were popular in the 1930s when pop song subject matter, understandably, inclined to the escapist: Eric Maschwitz' [Berkeley Square / These Foolish Things] lyric yearns for the eponymous café:
"Oh! Let me linger there till break of day
Where hearts are young and balalaikas play
I have a rendezvous"
A state of mind rather than a real place, of course, but one where we'd all like to have a drink or two.
6. Nellie The Elephant
(Butler/Hart)
sound clip
Before email, before telly, almost before the fountain pen, there was The Wireless. I've a theory that us guitar-led, baby-boomers are as much children of the radio as of rock 'n' roll. And tastes were formed early in a bizarrely eclectic record programme called "Children's Favourites", hosted by Derek McCulloch, the BBC's "Uncle Mac". For ever etched are Sparky's Magic Piano and The Runaway Train. In homage to those far away Saturday mornings, I've arranged two favourite animal songs. 12 year-old Mandy Miller did OK with this one in 1956...
7. Music Hall Moody #2: The Boy in the Gallery
(Ware)
"One of the greatest songs ever written" was John Osborne's opinion of this number introduced by Nelly Power, and later "appropriated" — and popularised — by Marie Lloyd. It was Lloyd's first hit and Osborne used it his play, The Entertainer. Unusually, it's a Music Hall song which is, itself, set in a music hall.
8. Rêve Bohème
(Privat)
sound clip
The early record industry of the 1920s introduced the world to two of the great stylists of guitar flatpicking, Maybelle Carter and Nick Lucas. The former was the matriarch lynchpin of the formative family group of that name who, with Jimmie Rodgers, effectively invented Country music. The latter was the first "guitar hero" with his 1922 hit, Teasing The Frets. The style is taken in a different direction here in my arrangement of this French café waltz by the great accordionist, Jo Privat.
9. Bugatti
(Calvert/Fleming)

sound clip
Isadora Duncan [1887–1927] is seen by many as the inventor of modern dance. Her colourful life was prematurely ended when she was strangled as her scarf caught In the wheels of her new Bugatti sports car. The song here is a collaboration with Bob Calvert, sometime "Hawkwind" front man and literary polymath. Bob's writing exploded everywhere: novelist, poet, playwright — and, here, song lyricist. Even here his imaginative range was vast: to give you some idea, other songs were about duelling in Heidelberg, trucking on the moon and trichological trials: (The Little Bit That Won't Lie Down).
10. Tune for Julie
(Fleming)
sound clip
A musical tribute. The composition draws on 19th century parlour music, which Julie knew well in both theory and practice. It is invidious to single out particular people who have tolerated — nay aided and abetted — my taste in the music you are listening to. But there never was a more well-deserved exception than here.
11. Sig Tune Heaven
In Party Mood (Strachey) — "Housewife's Choice";
We are the Ovaltineys (Helmsley) — "The Ovaltineys";
An Ordinary Copper (Darnell) — "Dixon of Dock Green";
Calling All Workers (Coates) — "Workers" Playtime';
The Gaumont British News Theme (Levy) — "Gaumont British Newsreel"
sound clip
Memory Lane: the flicks, Radio Luxembourg and avuncular bobbies like Sgt. George Dixon Of Dock Green (Jack Warner had had a career as a crooner before becoming Dixon. His Underneath The Shanty Town Moon is quite something. And owes nothing to the constabulary).
The Ovaltineys urged us in elocuted tones to drink Ovaltine and join their fun:
"At games and sports we're more than keen
No merrier children could be seen
Because we all drink Ovaltine
We're happy girls and boys"
Except it wasn't "happy", it was "heppy" à la Celia Johnson. Different times indeed.
12. Sally Don't You Grieve
(Guthrie/ Reynolds)
In the beginning was Donegan. And three chords. The flight from Skiffle is the story of a generation of guitarists: the sophistication of that fourth chord — now we were really motoring. But all too often this led to a quest for fanciness and the attendant dodgy equation:
Few simple chords > primitive = feeble
Lots of clever chords > sophisticated = the bee's knees
Wrong.
And so it is, in my dotage, I return to where it all started, with Lonnie and Woody and three chords.
13. Poor Papa
(Rose/Woods)
sound clip
An essentially ephemeral form, popular song time-locks the preoccupations, sensibilities and chord sequences of an era. Songs illuminate social change: the 1920s New Woman was feisty and forward in a way unthinkable decade earlier. And men like Poor Papa hadn't twigged, like his confrère in Moma's Getting Younger, Poppa's Getting Older Each Day:
"Momma with her Eton crop looks saucy, cute and sweet
Poppa has a straggly beard that looks like Shredded Wheat"
14. Caravan
(Ellington/Mills/Tizol)
My version of this Ellington standard strays a little from the big band spirit in which it was conceived. and the letter of the author's intentions... (please don't check the sheet music too closely). More solecisms: the recording is a mistake — due to a faulty amplifier connection the semi-acoustic guitar used here was rendered 'totally-acoustic' But this possibly worked in my favour: a lush amplified sound could have killed the brisk responsiveness demanded by my take on it. Hurrah for Happenstance!
15. Two Tunes at Once
(Dvorak/Foster/arr. Fleming)
October 1979 was quite a time: my daughter was born on the 17th and the following week I was dispatched to do an in-depth interview with guitar legend, Chet Atkins. Chet, famously, had a crowd-pleaser when Yankee Doodle Dandy and Dixie would be played first separately, and then at the same time. We couldn't use his arrangement in the article, so I gave Humoresque and Swanee River a similar treatment: No safety net! No stunt-doubles!! And absolutely no over-dubs!!!
16. Truck Driver's Blues
(Daffan)
Song writer Ted Daffan wrote several Country standards — his I'm a Fool to Cry received the Les Paul/Mary Ford treatment in the 1950s. This song was the big Country hit of 1939. And, yes — I know — I'm not the most obvious casting for a truck driver. Why, I don't even have a driving licence. But it's one of the pleasures of performing popular song that you often inhabit personae some way from who you are.
17. When Jerry Met Cole [Mr Lucky (Hubbard); Too Darn Hot (Porter)]
At first glance, Jerry Reed, Georgia redneck, and Cole Porter, preppy blue blood, seem unlikely bedfellows. Yet, in very different fields, they both achieved remarkable excellence — Country star Reed brought a complexity, wit and groove to solo guitar composition without equal. And the Porter songbook sets a gold standard, and he arguably wrote The Best Musical Ever, 'Kiss Me, Kate' — a show with not one duff number. Here the chaps meet in a medley in E minor.
18. When The Bloom Is On The Sage
(Howard/Vincent)
A cowboy pastoral from 1930. Its composer, Nat Vincent, was inspired by the Texas scenery he'd seen while touring in Vaudeville. It's an early example of commercial cowboy culture, expressed in records, radio, and movies — an entirely ersatz yet charming confection that owed little to the often grubby reality of the real West. Here we give it a Western Swing treatment. Western Swing, a jazz-inflected mélange, grew up in the dance-halls of the south and south-west USA and used an eclectic mixture of repertoire and instrumentation in the pursuit of a good time.
19. The Ugly Duckling
(Loesser)
Another animal song popular on "Children's Favourites", and again it's a particular performance that has come to define a number — this time Danny Kaye's in the film 'Hans Christian Andersen'. Although he did work with collaborators, Frank Loesser, like Berlin and Porter, wrote both the lyrics and tunes for much of his classy, diverse, catalogue.
20. Mando Strut
(Fleming)
The trail to "hot" mandolin was blazed by two luminaries, Dave Apollon and Jethro Burns. Apollon, originally from Russia, had imbibed European gypsy styles with their showy cadenzas and embroidered arpeggios. Burns was a fine jazz musician — who just happened to play mandolin. My approach owes a little to both, with some ragtime throw in — as here — where the sympathetic guitar accompaniment is provided by Doug Kyle, my picking partner of over half a century. He also recorded the track and built the instruments you hear.
21. Music Hall Moody #3: Oh! Oh! Antonio
(Murphy/Lipton)
sound clip
My taste in tunes may've started early when my Dad serenaded me with a delightfully eclectic bunch of ditties. There were curiosities from "The Scottish Student's Songbook", like Riding Down From Bangor and Wrap Me Up In My Tarpaulin Jacket, that he'd learnt as a student at St Andrews in the 1920s. And contemporary novelties like Put Another Nickel in (in The Nickelodeon) and In A Pawnshop On A Corner (in Pittsburgh, Pennsylvania). But the most memorable was Oh! Oh! Antonio, Florrie Ford's hymn to a wayward ice-cream vendor.
22. I Hate Myself (For Being Mean To You)
(Davis/Young/Ager)
sound clip
Some aural self-flagellation from 1934, yet for all that, it evokes a cheerier era of popular song with it's raggy chord sequence and breezy mien before tunes became too "sophisticated" and the lyrics too artsy. Why... even its pessimism is perky. Prime practitioners of this sunnier style of song were Milton Ager and Jack Yellen, celebrated for such songs as Ain't She Sweet, Happy Days Are Here Again and Big Bad Bill (Is Sweet William Now).
23. Bohemia
(Lamb)
sound clip
It's agreed that there are three outstanding exemplars of "classic" ragtime. Two, Scott Joplin and James Scott, were blacks form the Mississippi Basin. The third, Joe Lamb, was a white accountant from Brooklyn. His work is graceful and imaginative, slightly extending Joplin's palette. All agreed ragtime was a serious form demanding serious attention though my take is here is perhaps a little too jaunty for purists: more Winnie Atwell than Josh Rifkin. Toe-tapping was the order of the day.
Background to the CD
My preference in popular music has always been away from the contemporary and fashionable back to earlier repertoires and ways of playing. Curiosities represents a distillation of this, but this is no earnest revivalism: it's born out of traditions where to be entertaining wasn't a problem. In the Left Bank boîtes or London music halls or Texas honky-tonks, your material and performance had to work: if it didn't you didn't. But to be entertaining doesn't mean being facile or vulgar: the tracks on the CD have been deliberately chosen from a range of styles and sensibilities. I hope that this eclecticism — the very thing that makes it hard to pin down when someone asks "what sort of stuff do you play?" at a party — serves to give it breadth and depth. Light music that's worth revisiting and which also might prove interesting: the chord sequences and concerns of other times are a window to a Different Way of Doing Things. And that's what's here — eccentric maybe, but never inaccessible.
This album is also a lot about picking: a theme of Curiosities has been arranging tunes for solo guitar that are normally associated with piano or dance band and these are presented on a range of instruments to offer a wide sound palette: jangly 12-string guitar, smooth gut-strung guitar and a variety of steel-strung instruments from parlour guitars to jazz arch-top, and from resophonic instruments, with their pre-electric amplification system, to plywood cheapos. There are also specially commissioned instruments.
Familiar playing styles are brought to bear on less familiar tunes. So here's flat-picking — most often used these days for playing fiddle tunes on guitar — used to play European styles such as café waltz and circus march, and Nashville finger-picking used to play English radio and TV signature tunes. Mandolin — most familiar in a folk or classical context — is heard in syncopated swing mode as well as in a more extended composition inspired by Edwardian parlour music, and steel guitar is featured in a solo arrangement of a Nelson Eddy show song as well as in its familiar blues-ey, improvisatory mode. So, nothing forbiddingly obscure — just something familiar nudged in a new direction.
The tunes have a transatlantic twinge — a French waltz and British novelty song alongside more familiar American themes of herding cattle and driving trucks. Two of the songs are rescue missions of long-forgotten titles; another, my setting of an original melodrama. There's something from the Great American songbook, courtesy of Cole Porter and from the great American songster, Woody Guthrie. It was a delight to arrange a trio of British music hall ballads. Yet here, too, are more familiar forms: a rag, a blues.
I've been very lucky to have gifted collaborators on Curiosities, Doug Kyle and Stuart Hall. When they're around, things have an additional oomph. The guiding philosophy has been one of fun: if there's anything that links these tracks, it's the pursuit of musical good times. So file under 'Cheery' and I hope you'll find something on the CD to divert and amuse.
I'd love to hear what you think...
Appendices
(or more detail than you might want to know)
Getting It Down:
A life at the audio interface.
My first forays into recording were in the early 60s via a quirky device named 'Gramdeck': you plonked a trapezoid-ish, Heath-Robinson device on your record turntable — and, voilà, you had a tape recorder ("Why on earth did no one ever think of this before!" The Tape Recorder). Design, technology and styling were delightfully of their time: a tin pre-amp, weedy wires with co-axial connections and a round plastic microphone that looked like it could have come from the flight deck of Dan Dare's spaceship.
Celebrity endorsement for the 'Gramdeck' was not from a post-Skiffle beatster or folkie, but from Max Jaffa, a much-loved violinist rarely off the air waves, often broadcasting from the Spa Grand Hotel, Scarborough. Despite Jaffa's Palm Court leanings, the apotheosis of my 'Gramdeck' years was a version in late '62 of Jimmie Rodgers' Mississippi Delta Blues, with an intro shuffle riff of A/A6; A/A6 etc (which, if I might be forgiven a show-biz moment, I later taught to Mike Oldfield in his kitchen in Reading). But you had to be careful with the 'Gramdeck' — a slight shift in tape speed (the capstan was driven by your record-player turntable) could all too easily make your recording sound like it had been done under water.
A little later, I was lucky through help and encouragement from my Dad — an engineer — to trade up to a Vortexion, a serious British tape recorder similar to the better-known Ferrograph. The date of delivery, 6-6-66, lives in memory. And the machine was excellent, serving not just for live recording, but dubbing original 78s onto tape and as a de facto amp for excursions into Eddie Cochran country.
All this was done in a leisurely, gentlemanly way — a key text for me was Ian Arnison's Tape Recording as a Hobby. 'Hobby', you'll note, not a Pro Tools, Triple Mastered audio file aimed at getting a deal with Sony.
So to today...
Whilst contemporary digital recording offers a flexibility and ease of use far beyond working with analogue tape, the process remains the same: — plug the mic into a pre-amplifier attached to the recorder; trial 'n error to get a microphone position that sounds nice; check the recording level isn't distorting. Press the 'start' button and play.
The bulk of Curiosities was recorded in my living room. The mics went through a Broadhurst Gardens pre-amp using old Decca technology into Yamaha DAWs (first a 1600, then a 2400). The mic for the instruments was mostly a small-bodied condenser Josephson C42; the Dobro tracks used a Langevin. The vocals were mostly on the industry-standard Neumann U87: my voice needs all the help it can get. The mando duets were via a couple of Rode NT1's into GarageBand on the family computer at Doug's farm.
Mr Lucky/Too Darn Hot was done at The Palace of Aesthetic Excellence in Goodmayes, using a Manley mic mixed with a line from the guitar pick-up. Stuart's band recordings were done via Logic Pro into his Mac. His colleague, Andy Britton, mixed Bugatti.
Instruments:
what, when, why
The mandolin heard is an oval-hole 'florentine' style with curved top and back. A commission from Doug Kyle, it follows the pattern of an instrument built by a 'cello-maker in NYC; his sight was failing and therefore the slightly skew-whiff fingerboard was replaced with a stock Harmony one by Noah Wolfe, from whom I bought the instrument in 1964. I later substituted the existing bridge and machine heads with Gibson spares got from them when I visited the factory. But for all its eccentricities, the sound was remarkable. And versatile, having neither the sometime thinness of a classical bowl-back nor the somewhat harsh 'push' of the iconic Lloyd Loar f-hole Gibsons, so ubiquitous on bluegrass recordings.
(Spot-The-Exception: the mando fills on Everything Stops For Tea are on a metal-bodied National copy. But you'd clocked that, of course...).
The steel guitar numbers (tracks 5, 12 &16) are in dropped D tuning — D G D G B D — to widen the frequency range to facilitate solo arrangements. 'Steel' guitar — sometimes styled 'slide' guitar — refers to pieces played with the instrument on the lap, the left hand stopping the strings with a steel bar, the right hand picking them. The tunes might be Hawaiian, blues or country. Or even, like At The Balalaika, a 30s show tune. This is performed on a Mexican-made Weissenborn copy. Weissenborn, originally a violin and piano-making firm, branched into Hawaiian guitar manufacture in the 1920s, utilising a hollow neck and dispensing with an orthodox guitar shape to increase acoustic efficiency. Up to that time Hawaiian music had been played on conventional guitars adapted for slide playing by raising the string at their take off points at the nut and bridge. The other slide pieces are performed on a British 'Dobro' copy. 'Dobro' was a resonator guitar invented and built in by the U.S. by Dopyera brothers in the late 20s. It utilised an inverted metal cone set in a wood body over which the strings were strung — allowing acoustic amplification on a principal not dissimilar to that of a wind-up gramophone. (Etymology: Dopyera Brothers — and also the word for 'goodwill' or 'goodness' in their native Slavic).
The 12-string guitar that opens the album is a Takamine electro-acoustic, although in this case the 'electro' wasn't used. The three Music Hall ballads were on a Martin 0021, strung down a tone with round-wound strings to aid breadth and sustain. Two Tunes was played plectrum-with-fingers on a 12-fret cedar-top built by Vince Hockey using La Bella silk & steel strings. (Another of his instruments, a ¾ size 12-fretter, is what I'm holding in the website home page pic). Poor Papa is accompanied on a Martin J18. Elsewhere, guitar work is mostly on nylon-strung Yamaha electro-acoustics, mixing outboard mic and onboard pick-up. Except for Sig Tune Heaven, where you hear a Gibson 'Johnny Smith', mixing a mic with the fingerboard pick-up through an AER Acoustic 60 Amp.